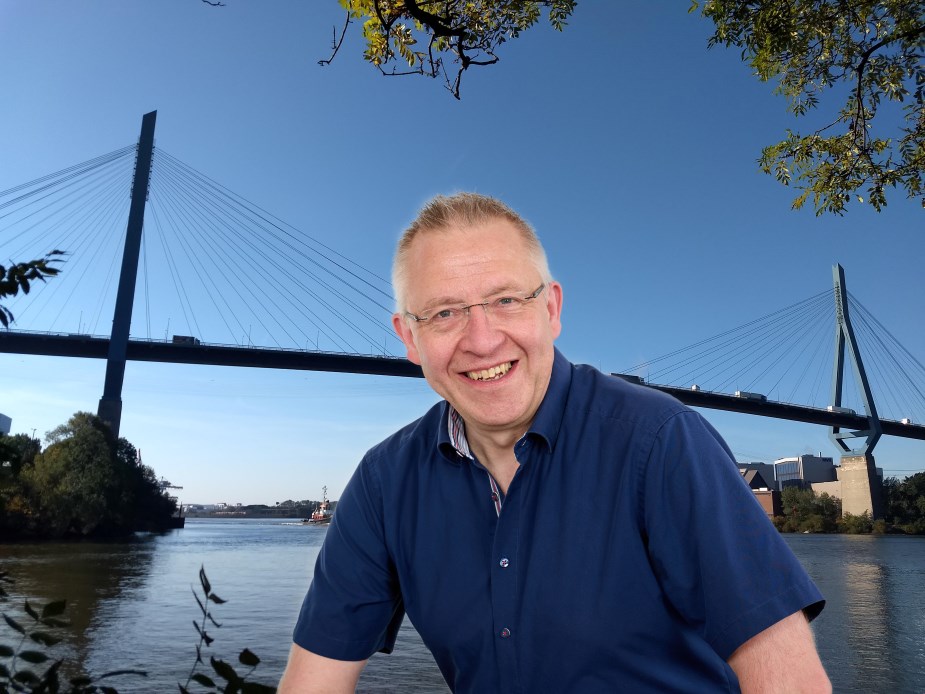 Edgar Brill
Mr. Brill has been self-employed since 2015 and has extensive experience selling technical and consulting-related products to industrial and skilled trades companies, resellers, as well as end-users for more than 25 years. The in-house and field service supports his customers with the following professional focus:
industrial measurement engineering
pumps and valves
pipeline, machine, and plant construction
municipal water supply and drainage technology
electrical installation
The Company
Synva GmbH – process instruments is a company from Rellingen – not far from Hamburg, Germany. Started in 2015 as a pure sales office for industrial measurement technology, SYNVA has now been setting its own standards since 2023 – in the truest sense of the word!

Because SYNVA is a sensor TAILOR !
Here in Rellingen, the process engineering tailor-made suit with integrated RF impedance sensor technology is created in collaboration with certified production facilities.
Our measurement products are always based on our customers' processes. We can do this because, for example, we implement sensitive RF impedance sensor technology in our individual potential boosters and complete it into a common measuring system. The wedding dress is tailored to suit our customers' process. With its technology products, Synva accompanies the music that has to be played in existing process technology – from heavy metal to opera ball!
SYNVA`S collection begins, among other things, as a measuring system for laboratory operations
in a "spike heels" design including a GL 25 glass thread
and this is what most often nestles against, for example
as an Chain mail  (up to 260°C) wich is an Stainless steel Flange in DN 100, PN 40 according to EN 1092-1.
"For vertical use, we even change the thigh spread on the tailcoat collar of the Potential Booster from 90° to 67° so that the tie tie fits." The process-oriented collection from SYNVA has one thing in particular
no "unnecessary bells and whistles" but functionality!
Every product is manufactured in a solution-oriented manner according to our specifications. This applies, among other things, to almost all of our technical products. In short – measurements are taken where they need to be regulated.
SYNVA rarely offers the market "bar goods" with a total length of 1,000mm!
under the face of the flange we also realize e.g. 892mm.
In terms of measurement technology, SYNVA focuses on the essentials – on the output signal
as (0)4 – 20mA
or as a limit control unit.
Thanks to our design, we can offer our customers metrological products with integrated RF impedance sensor technology, where the individual components of which are largely manufactured using certified production. This includes also products wich implemented the Pressure Equipment Directive according to the European Standard. Accompanying certificates for explosion protection are optionally included in the scope of delivery!

No metrological product is delivered without a documented functional test.
Founder
The company founder and managing director, Edgar Brill, has always practiced technical and, above all, solution-oriented sales in his more than 25 years of work. Mr. Brill has extensive experience in sales and project planning of metrological instruments, industrial pumps, valves, and systems, as well as in municipal water supply and drainage engineering as well as electrical installation.
Solid knowledge of his vocational training as an electrician, combined with continuous business training, "…have always been the fine difference in sales for me," says Mr. Brill today. When talking about the fine difference, he is primarily talking about the work of pure discount salespeople who – when it comes down to it – generally are unable put themselves in the shoes of the customer.
The control and regulation of complex production processes is no longer conceivable without sophisticated process engineering today. And yet: Sales is one thing – business management is another! That simply means taking the lifecycle cost, and thus the economic benefits for the customer, into account. The focus of Synva GmbH & Co. KG is on these factors for all sales tasks at all times. This fact is underpinned by the commercial career of Mr. Brill from wholesale merchant to business economist (IHK).
Through firsthand, practical work with corresponding products as well as their sales, Synva GmbH – process instruments has developed comprehensive know-how in their market segment.
The Customers
The clientele of Synva GmbH – process instruments is mainly recruited from industrial companies, industrial machinery and plant construction companies, as well as service companies, ocean carriers, and engineering offices. The industry focus is on chemical engineering, pharmaceuticals, foodstuffs, oil and gas production, the extended mining sector, and the shipping industry.
Our customers see us as partners in the development and delivery of process-oriented solutions!
Products
We deliver holistic solutions or adequate replacements – from the individual measuring point to the complete system component.
Synva sees itself as a supplier for industrial measurement technology. In this respect, we offer an all-round package of deliveries and services, which distinguishes SYNVA as a holistic service provider. At its core, our product portfolio contributes externally to the continuous improvement of our customers' operations. Our comprehensive package includes :
Industrial Measurment Technolgy
Service; Measuring ability of a process
Commissioning and Maintenance.
We are driven by your economic benefit.